16 December, 2018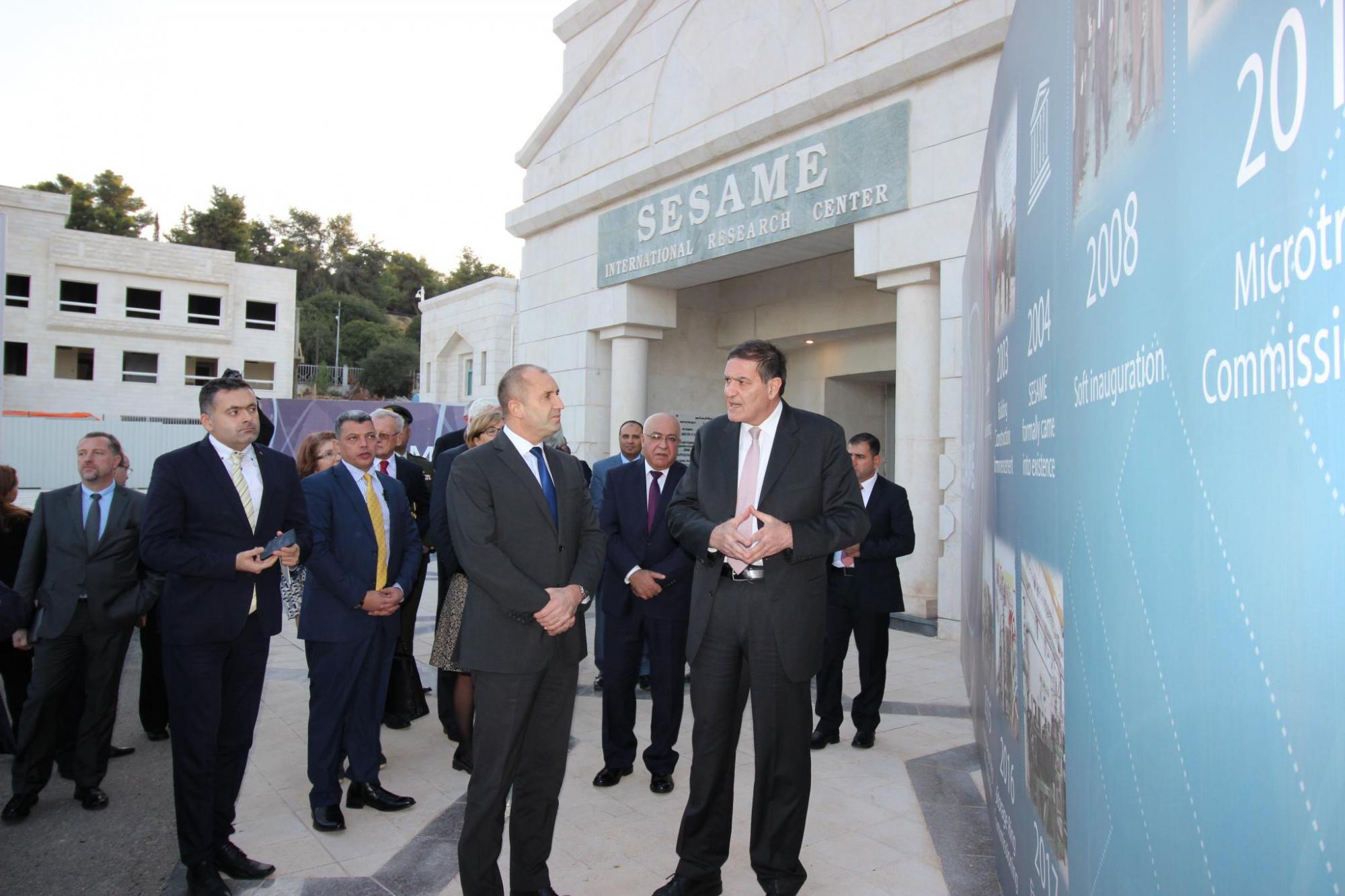 On 15 December, the President of the Republic of Bulgaria, Rumen Radev, paid an official visit to SESAME. Among the 7 delegates accompanying him were the Deputy Prime Minister and Minister of Foreign Affairs of Bulgaria, Ekaterina Zakharieva, and Bulgaria's Ambassador to Jordan, Venelin Lazarov.

The visit was prompted by the President's wish to see at first hand SESAME at work.

Bulgaria is one of the 9 countries forming part of SEEIIST (South East European International Institute for Sustainable Technologies), an intergovernmental project designed to promote science for peace in South East Europe following the CERN model. The other countries are Albania, Bosnia and Herzegovina, Kosovo, FYR of Macedonia, Montenegro, Serbia and Slovenia, and in the Declaration of Intent signed by the 9 countries in 2017 SESAME is cited as an example of a similar initiative that came to fruition.

The SEEIST project was proposed by Herwig Schopper, the first President of the SESAME Council and a former Director General of CERN.

On arrival at SESAME, President Radev and the members of his delegation were welcomed by the Director of SESAME (Khaled Toukan) and the President of the SESAME Council (Rolf Heuer), as well as the Centre's Technical and Administrative Directors (Riccardo Bartolini and Walid Zidan), and after a short film about SESAME, they were shown round the accelerator and the beamlines.

President Radev strongly emphasized the importance of collaboration in science, and expressed the wish for cooperation between SESAME and SEEIIST in its path to becoming a fully-fledged Institute. Rolf Heuer, also a former Director General of CERN, and Khaled Toukan encouraged the countries of South East Europe to pursue their initiative since, as shown by SESAME, collaboration between scientists was one of the surest ways of allowing scientists of different cultural, political and religious backgrounds to come to understand each other and forge lasting links.