14 December, 2020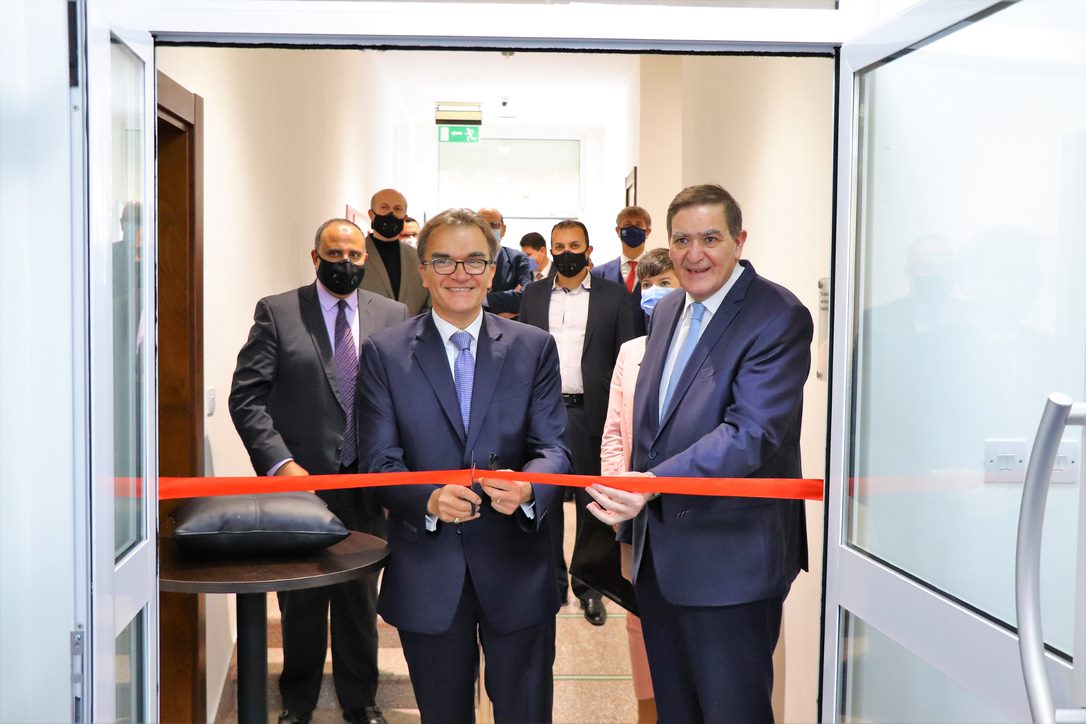 14th December 2020 marked the inauguration of the Swiss Lounge on the ground floor of SESAME's Sergio Fubini Guest House.
This Lounge provides a convivial meeting space on the premises of SESAME for both formal and informal meetings between researchers, visitors, officials from all SESAME's Members and other partners of the Organisation.
The Swiss Lounge was furnished and equipped thanks to generous funds provided by the Swiss Confederation represented by the Federal Department of Foreign Affairs (FDFA), acting through the Embassy of Switzerland in Jordan.
A ribbon was cut by the Ambassador of Switzerland to Jordan, H.E. Mr Lukas Gasser, and the SESAME Director, Professor Khaled Toukan.
"Following the idea of "science for diplomacy", Switzerland is persuaded that the professional and personal ties created at SESAME among researchers from different countries in the region will not only strengthen the scientific development and network in the Middle East, but also foster mutual understanding and collaboration" said Lukas Gasser.
"SESAME is very grateful to Switzerland for having donated funds to furnish the Lounge" said Khaled Toukan. "Given its mission to promote dialogue between scientists and to foster mutual understanding and tolerance through international cooperation, it is very symbolic that Switzerland's funds should have been provided for a gathering point where scientists may meet to exchange ideas and experiences in an informal environment" he added.
Switzerland is one of the Observer countries of SESAME. It has been a firm proponent of the Organization and has been very generous in the help it has provided. Among this was a cash donation of some US$100,000 when it joined as an Observer in 2010, the very important components previously installed at the Swiss Light Source (SLS) that the Paul Scherrer Institute (PSI) based in Villigen donated for SESAME's MS (Materials Science) beamline, and the powerful PILATUS 300K area detector for the beamline donated by the Swiss company Dectris.
Swiss scientists have also played a very key role at SESAME with Albin Wrulich (PSI) having chaired SESAME's Technical Advisory Committee (TAC) for 14 years and not only having provided sterling advice and guidance for the construction of SESAME's accelerators, but also having shared his vast experience with the staff at SESAME; Lothar Schulz, also from PSI and a former member of SESAME's TAC, who through his membership of the Committee participated in the design of SESAME's storage ring vacuum chamber; SLS experts who helped in establishing and building the timing and control systems for SESAME's accelerator; and Ulrich Schurter of the Swiss company Hoeltschi-Schurter having been one of the two international experts who had led the design and construction of the steel structure of the roof of SESAME's building which had been seriously damaged during unusually severe snowstorms that continued uninterrupted for 3 days, with intermittent rain and sleet. They continue to do so though the membership  of SESAME's Scientific Advisory Committee of Marco Stampanoni (University and ETH Zürich ETZ F 85) and numerous other scientists.
Switzerland's role in capacity building was also an important one. SLS was one of the 8 European synchrotron light sources to have hosted scientists and engineers from the Middle East and neighbouring countries who were selected at the beginning of the project for training as accelerator experts. Through the years, Switzerland has continued its capacity-building actions. The most recent example is the training at PSI of Gianluca Iori, SESAME's BEATS (BEAmline for Tomography at SESAME) beamline scientist. PSI is one of the 8 European synchrotron light sources/science institutes partnering with SESAME in construction of this European Union-funded beamline.