29 June, 2019
Yesterday (June 27, 2019), SESAME and The Cyprus Institute (CyI) signed a Memorandum of Understanding (MoU) during a ceremony held in conjunction with the Workshop on the Scientific Case for BEATS (BEAline for Tomography at SESAME) organized by the CyI, and the 34th meeting of the SESAME Council hosted in Nicosia by the Directorate General for European Programmes, Coordination and Development (DG EPCD) of Cyprus.
Among those present at the ceremony were (in alphabetical order) the Director of Planning of the Directorate for Research, Innovation and Lifelong Learning at the DG EPCD, Ioanna Cleanthous, the Ambassador of Jordan, Mohamad Sharari El-Bakhit El-Fayez, the President of the SESAME Council, Rolf Heuer, the President of the Friends of The Cyprus Institute, Petros Kareklas, the Chief Scientist for Research and Innovation of the Republic of Cyprus, Kyriacos Kokkinos, the President of the CyI, Costas Papanicolas, the Director of SESAME, Khaled Toukan, the Director-General of the Research and Innovation Foundation, Vassilis Tsakalos, and a former European Commissioner for Health and former European Commissioner for Education, Culture, Multilingualism and Youth, Androulla Vassiliou.
The Memorandum of Understanding aims to further promote joint research and educational activities by the CyI and SESAME in areas of common interest. It is the natural formalization of the fruitful collaboration there has been between the two Centres ever since the 2000s with scientists from Cyprus and The Cyprus Institute participating in the planning and development of SESAME, and currently user groups using SESAME's beamlines for their experiments (scientists from The Cyprus Institute constituted the first user group to use SESAME's first operational beamline), and SESAME having used, and continuing to use, the facilities and competencies of CyI, such as HPC (High-Performance Computing) and data science.
Cyprus is one of the Members of SESAME.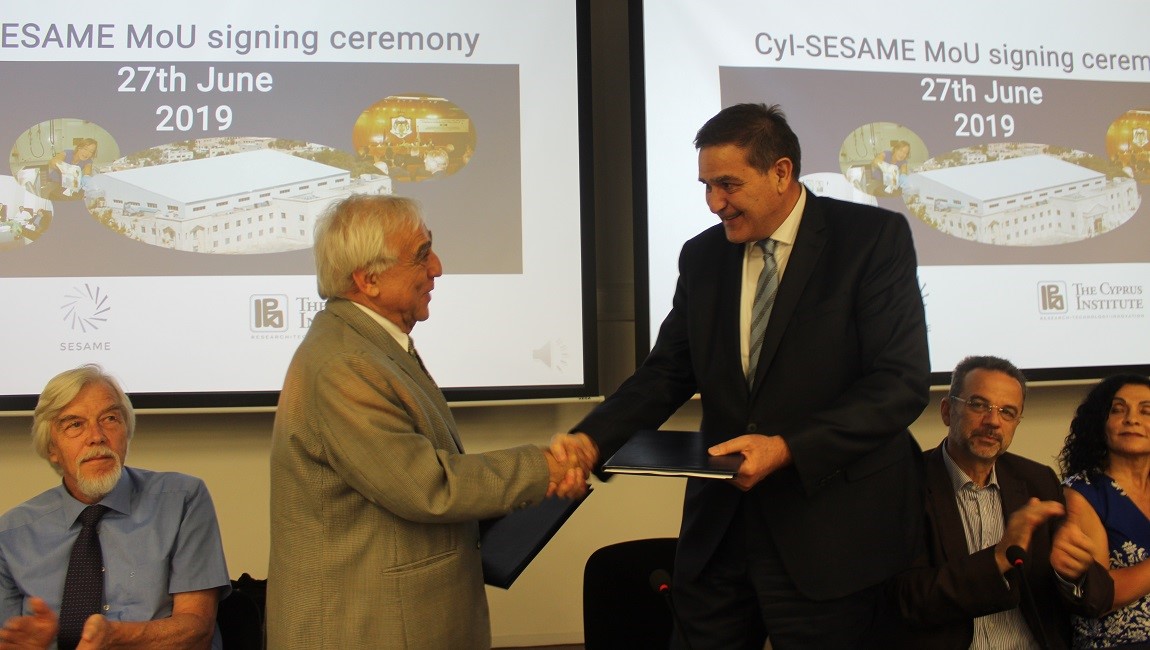 Read More: click here